Tom Antion: Click!
Friday, February 6th, 2009 at 8:55 am
How Speakers, Authors, Coaches and Consultants Make Money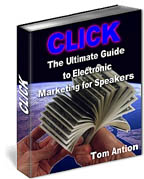 on the Internet . . . FOR REAL
(completely revised 2008 edition)
This breakthrough e-book will show you how to build an electronic marketing business from "square one" into a five-figure . . . six figure . . . even a million dollar asset. 
I'm Tom Antion. When I say "square one," I MEAN SQUARE ONE! When I started I had a website that received only 400 visitors in two years and I had no computer knowledge other than word processing. To this day I don't have a tremendous amount of basic computer knowledge. The technical stuff doesn't even interest me. . . . I like to write deposit slips, not programs. 
I do know where to "click" to make money and this E-book was designed to make it easy for you to click in the right place without all the trial and error I suffered through.  
Tagged with: click • internet marketing • marketing for public speakers • SEO • tom antion
Filed under: Uncategorized
Like this post? Subscribe to my RSS feed and get loads more!